Melisa Aldrete and Luis Cardenas got their start in design while living in England. But it wasn't until they returned to their native Mexico in 2012 that Popdots found its groove making ceramics. Today, they produce functional, seductive pieces in Zapopan, Jalisco. They work in a one-floor studio with glass sliding doors, a stone floor and plenty of plants. It's a small, calm space, much like the neighborhood in which it's located, El Zapote. "We ́ve been here for almost 3 years," says Luis, "and we love the chirping of the birds and the privacy of the adobe tall walls." Pretty dreamy, right? Short of joining them in a work-share situation, we decided to at least ask them more about their daily routine.
WHAT'S THE FIRST THING YOU DO WHEN YOU GET TO THE STUDIO?
We water the plants and get the coffee machine going. There's a coffee shop in the neighborhood called BrewLab, where we buy different types of Mexican bean mixtures that the barista suggests.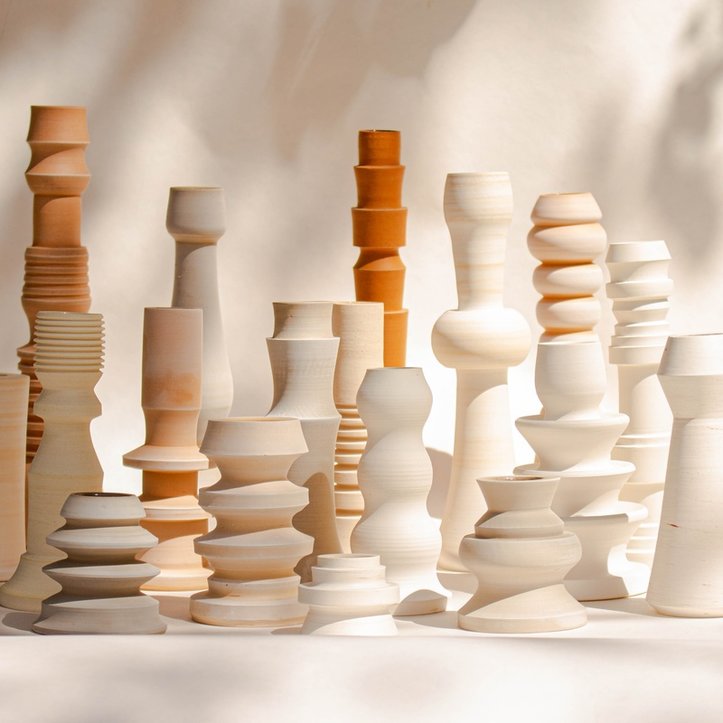 Ginger and marigold jellies in a serving vessel by Fefo Studio.
TASK YOU ENJOY MOST DOING:
I would say wheel throwing and cleaning the studio.
TASK YOU ENJOY LEAST DOING:
Wedging the clay and packing orders.
WHAT'S YOUR LUNCH ROUTINE?
Most every day, from 2pm to 3pm, we sit at the kitchen table, chat and eat. On Thursdays we always have "lonche de pierna," a pork-leg sandwich with red tomato and jalapeño sauce from the street market. Each bite is like is a party in your mouth, and everyone's invited!
FAVORITE OBJECT IN YOUR SPACE:
Our work tables. I think they gather our strange and individual way of thinking. We bought them at a home store. The tables are metal and wood, but I think the way they allow us to hang, store and display tools, as well as drawings and personal treasures, is what makes them special.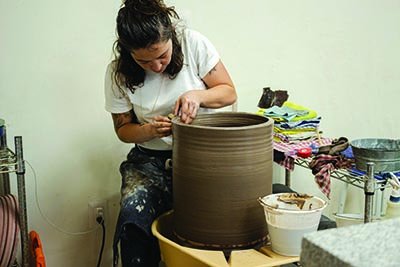 DO YOU LISTEN TO MUSIC WHILE WORKING?
Always. (Luis) Jazz or instrumental. (Melissa) Melancholic and calm.
WHEN YOU'RE MOST CREATIVE...
We jump completely into it, without the fear of falling—more like with the emotions of flying.
EVER SNEAK A NAP?
We wish. We prefer to manage a soft sway during the day.
HOW DO YOU KNOW IT'S TIME TO GO HOME?
Luckily ceramics force you to give every step its own time, so in a way it teaches you to know exactly when to leave it alone so you could take and enjoy your own time. At that moment it's time for you to go home.
Visit Popdots